Marketing Funnel is one of the tools that can help us build and establish a business marketing activity.
Marketing Funnel is a result of statistical analysis of consumer behaviour, and it is done by observing the purchasing process.
In general, every business has three marketing funnels: Word of mouth funnel, Social Media funnel, and networking funnel.
It is healthy for your business to use more than one funnel but too many funnels can mean chaos and not targeted marketing.
Researchers found that out of 100% of people that will saw an ad for a product or a service, 25% visit the store, website or make engagement (inquire about a product or a service).
Only 10% of them will show interest in the product/service.
Only 1% of them will buy the product or service.
This funnel can look different for different markets and different businesses but in general, that is the main Marketing Funnel percentages.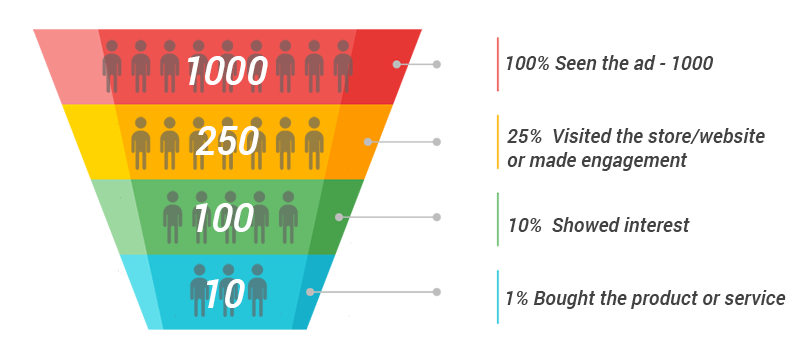 We use a funnel as our visual and you might expect that everything that goes in will go out the other side, in Marketing this isn't the case.
During every level in the funnel, we lose potential clients and in every step, it is on us to provide the client with a reason and interest to stay in the funnel.
We will look at the Purchase Funnel as a way to visualize the process of converting leads into paying customers.
Why do we need

 

Marketing Funnel
We need to build a purchase funnel for many reasons:
Targeted audience – we can get better more targeted leads
Steps process – learning what our customers need in each step of the purchase process
Generating accurate content – the marketing funnel will teach us the content needed for each step
Goal setting –knowing your business goals and how to use your resources in the right way
Performance analysis – we can know our lead to conversion margins and all step to step margins
Better ROI – Good marketing funnel will increase your return on investment
Need help with your Digital Marketing? You have come to the right place! Complete this short form, and we will get back to you with quality consultation, at no cost.
The classic

 

Marketing Funnel
Awareness
The first time someone was exposed to your product/service.
The step where your client is learning of you and starts being aware of your product/service.
In Digital Marketing, this is the step your future client saw your ad on some platform. In the real world, it can be that someone has told your future client about your product.
We call these clients Cold Leads.
Interest
Clients show some interest in our product/service.
In this step, we need to give our future clients interest in our product/service.
The interested client, which is in your targeted audience, will stay in the funnel.
Want
The client has all the information on the product/service and now needs to make a decision to buy.
In this step, the client will need to learn the price of the service or the spec of the product, and all the conditions in order to make an educated decision.
Purchase
The client is paying for the product/service.
In this step, the client will need to learn the price of the service or the spec of the product, and all the conditions in order to make an educated decision.
This funnel is naturally happening, and all you have to do is look at your clients and map them.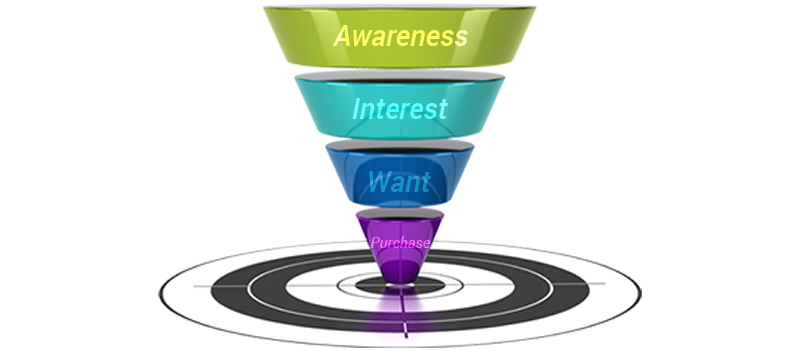 The Interest step of the

 

Marketing Funnel
The longest step of the Marketing Funnel is the Interest step.
Most of your Social Media followers, your email marketing list, your website visitors, people that visit your store, all of your future clients are in the Interest step.
This is where you start engaging your future clients probably through content (blog, social media posts etc).
Unfortunately, this is where you lose clients. This step is where most businesses are stuck because they fail to push customers down the funnel to the next step.
You might be using CTA (call-to-action) by giving free PDF, posting video tips, mentioning your website and product in posts, but you will need to do some more work for people to move to the next step in the funnel.
If you read this and you think it is too "pushy" because you want the purchase process to happen naturally, you are wrong. The only way for people to stay in your funnel and continue to the Want step is with you convincing them to do so.
The classic

 

Marketing Funnel
For most businesses, the classic funnel is enough in order to build the marketing strategy. But sometimes we need to use the extended funnel. This is more suitable for big businesses with large content and monitoring budgets.
Awareness
In this stage, you will create leads by gathering info from paid ads or organic visitors.
Interest
The customer has a growing interest in your product/service. Now it's time to develop a relationship with them.
Consideration
Customers are interested in your products but haven't made up their minds yet. Free trials, automated emails can help.
Intent
Customers have placed the item in the shopping cart. They almost made up their mind; you can't let them get away now.
Evaluation
Customers are committed to buying but might do the last comparison between your product/service and your competitors.
Purchase
Your lead converted. You might get referrals if they are happy customers.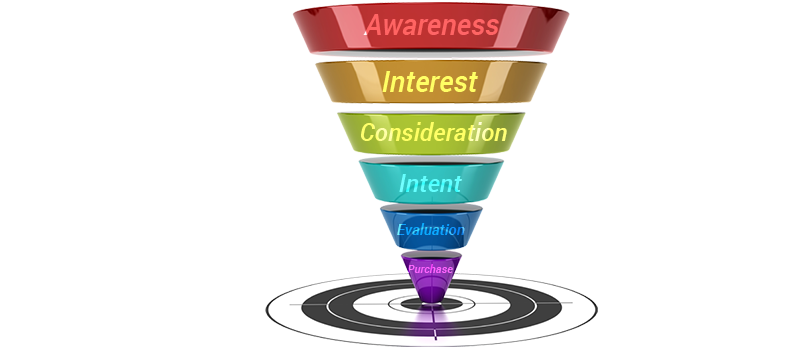 Quick Purchasing

 

Funnel
Sometime we will see a very quick purchasing funnel, visitors see your product or service and order it instantly.
There are many reasons for quick purchase funnel and here are some:
Ear to mouth client
Emotional purchases
Cheap pricing
The product is simple. You can buy it almost anywhere
Seasonal products
The product is essential or required by law
Marketing Funnel In Practice
Specifications of

 

Marketing Funnel

, step-by-step
Find the classic funnel that is happening naturally in your business by mapping your clients.
Look both at the funnels you think your business has and at your Google Analytics.
Take a look at specific clients. Start by looking at your last sale: How did they reach you? in what hour did they order? how long have they been on the website before purchasing? how long since your call meeting with them? how many call meetings before they have ordered? did they also follow you on social media? etc.
Figure your business funnel and

drew

it on tools like https://www.draw.io/
Create specific content for each funnel step.

Fine-tune your marketing funnel

. You know your natural funnel and you've created new content for each step. Now check for improvements and change things accordingly. Then recheck.
Create new marketing Funnels. Although you already have some working marketing funnels, try to build a new funnel once a year to grow your business.
What to do in each step of the

 

Funnel

, step-by-step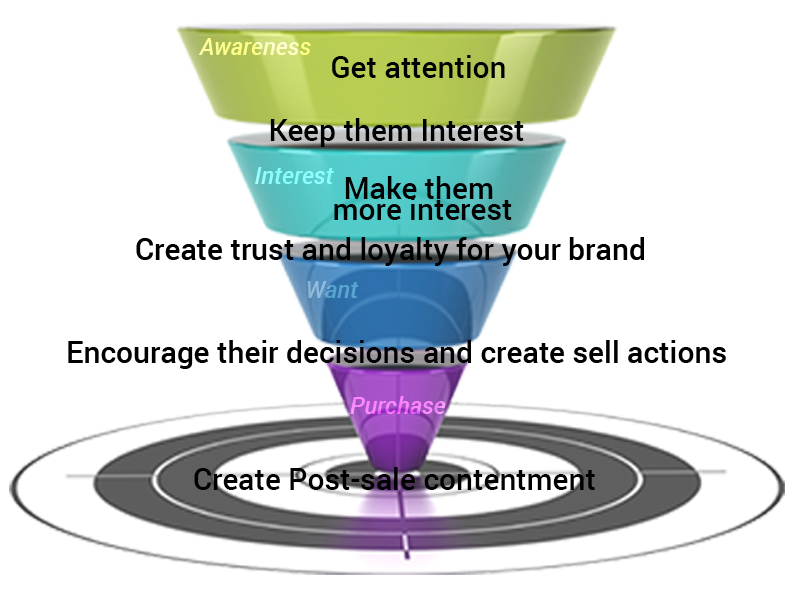 Awareness step
In this step of the funnel your client:
Doesn't know and doesn't have any trust in you and your product/service
Most of the time don't understand the product/service you are offering
Might not need or want what you sell
Might need what you sell, but doesn't know it yet
Cannot compare price, as he did not do any research yet
Doesn't know your advantages and uniqueness, therefore it cannot distinguish you from others in your marketing field.
In the awareness step, don't try to sell, send to Facebook page/group or ask to sign to an email list, show pricing etc. Try to lead the "cold lead" down the funnel to the next step by making them interested in your product/service.
Trying to sell in this stage might look desperate and feel aggressive to your buyer. We better let them read more articles to keep them interested.
Ads in this step will do 3 things:
Draw attention
Will should say "it is interesting here"
CTA (Call-to-Action): it will be more interesting if you click
Remember that if a "cold lead" is exposed to the wrong creative, the ROI (return-on-Investment) can be low.
Ad Example for Awareness Step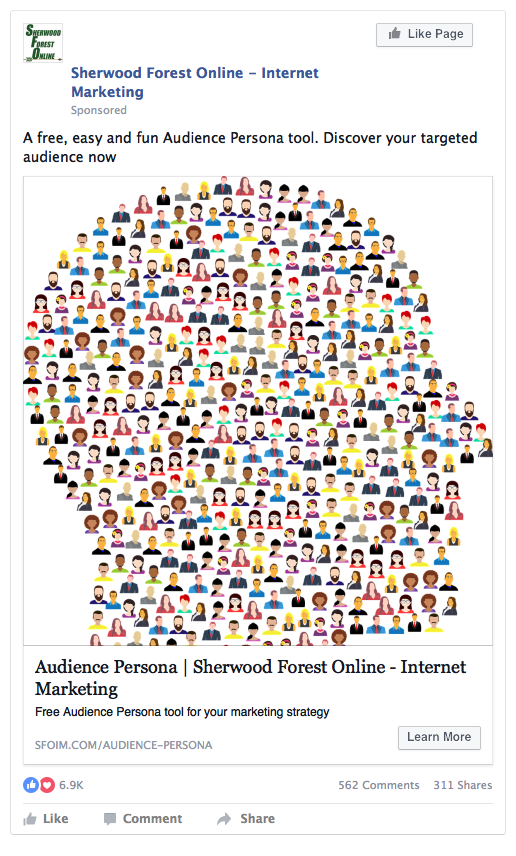 Interest step
In the Interest step, we want to keep the client interest.
Emphasize how the client can value from your product. Give the client knowledge and inspiration, but don't try to sell.
A video can be a good fit for leading clients from awareness to interest.
CTA should be "learn more".
Contents that can work:
Talking directly to the client
Honest content – your issues, dilemmas, questions, values, challenges
Personal sharing – feeling, but related to the product or service
Make sure your message contains comprehensive information, but indirectly.
The content in this stage should be:
Teaching and useful
Create identification
Create inspiration
Encourage to make a change
Transfer emotions
But it should also be fun (escapism).
In this stage, we want to make the client active. He passively read the content on our website, so now we want to ask him to actively do something (like download a PDF) as preparation for the sale step.
Ad Example for Interest Step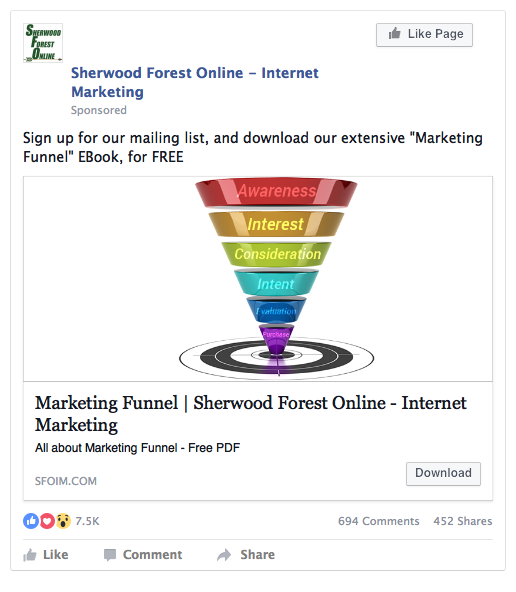 Want step
In the want step, we want to keep the client with us, but not sell yet.
This step is for clients that have been in the funnel for a while. They have already been aware of the product/service and us. They have already shown an interest (like joined our Facebook group, downloaded free PDF etc).
In this step, give the client a lot of info on the product/service. Explain how to buy, options of buying etc. The main purpose is to make the client contact us (via mail, phone, messenger, lead form etc).
Once you received a contact, we reply immediately.
35%–50% of sales belong to those who respond first.
Us the "5 Minute Rule": contacting leads within five minutes of their entry into the marketing system.
It's a tricky stage, but try not to sell. In this step, the client either wants to stay or will leave forever.
The information we will give the client in the want step:
Extensive information on the product (size, options, colour, material, packages of services etc.)
Information on shipping, cancellation policy or return policy
Prices and paying options
Testimonials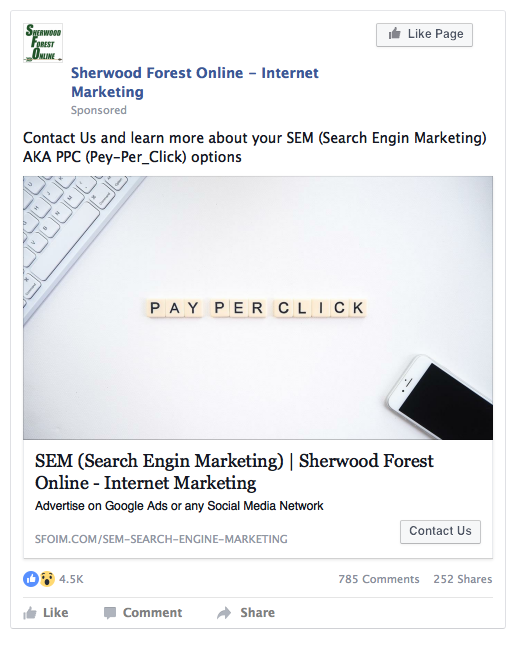 Ad Example for Purchase Step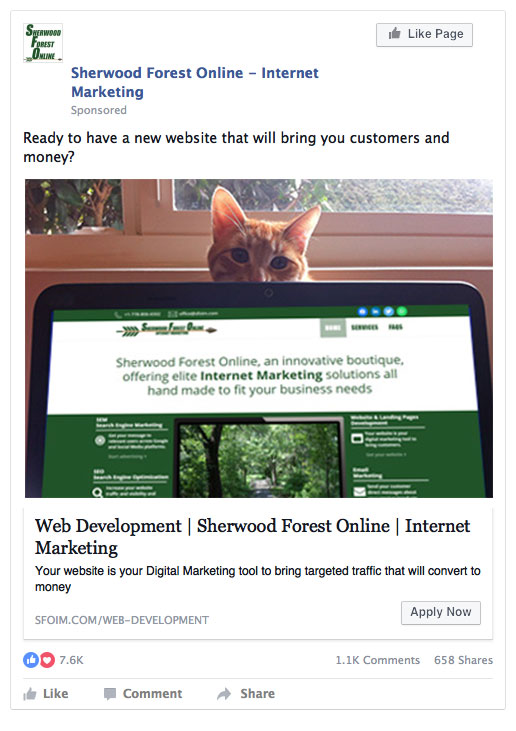 CTA (Call-to-Action) and

 

Marketing Funnel

 

steps
The CTA (Call-to-Action) has to be related to the funnel step.
Experts found a correlation between how much CTA (Call-to-Action)is related to the funnel stage, and CTR (Click-through rate). The more the CTA is related to the step, the higher the CTR.
Awareness step CTA:
Learn more button
Read an article (content needs to be related to step)
Browse through the work portfolio
Listen to podcast
Interest step CTA:
Download now button (free PDF)
Read an article (content needs to be related to step)
Listen to podcast
Join Facebook Group
Join Challenge
Want Step CTA:
Contact us button
Lead form
Product/service price and offers
Product/service page
Testimonials page
Purchase Step CTA:
Implementing the

 

Marketing Funnel

 

on website landing page or post
The top of the page is the

awareness

step – write a powerful title, first paragraph and add a picture showing the value to the client.
Scrolling down the page will be the Interest step – Give examples of your product or service. Explain what's unique and special in it, the advantages of it. You can add pictures, free content to download, requests for demo etc.
Scrolling more down will be the Want step – Give the client something that will make him contact you. A leads form will work well here.
At the end is the Purchase step – make sure all buttons and CTA (Call-to-Action) are relative to the page. Use the "Contact Us" button, "Buy Now" button or leads form.
Implementing the

 

Marketing Funnel

 

on Email Marketing
If you are using Autoresponders emails, you can implement your funnel:
First email – Awareness – thank your client for joining your mailing list and explain what kind of information you'll be sending and how often. Emphasize the value he will receive from these emails.
Second email – Interest – clients that will open this email, want to hear more from you. Make sure this email provides quality information. Something that will give your client value and will encourage them to be active.
Third email – Want – Give your client something free to download.
Forth email – Purchase – Use call-to-actions to activate you the client.
The importance of using a professional digital marketing agency
In order to enjoy all the benefits that Digital Marketing can give, you will probably have to use the services of a skilled and experienced professional in the digital marketing field.
Although some platforms are considered easy-to-use, an experienced, knowledgeable professional marketing agency will have in-depth knowledge. They will be able to translate your requirements and needs and make sure that your strategy meets all of these.
Our agency specialized in building websites, SEO, SEM, SMM, Email marketing and content monetization since 2012. We will help you from the first step of setting the goals and make sure all is tailored to your business requirements and needs.
We offer the whole package: strategy planning, consultation, development and execution. Contact us today.
Need Digital Marketing Services?
A quality Digital Marketing will increase the number of leads, bring new customers and improve your business revenue.